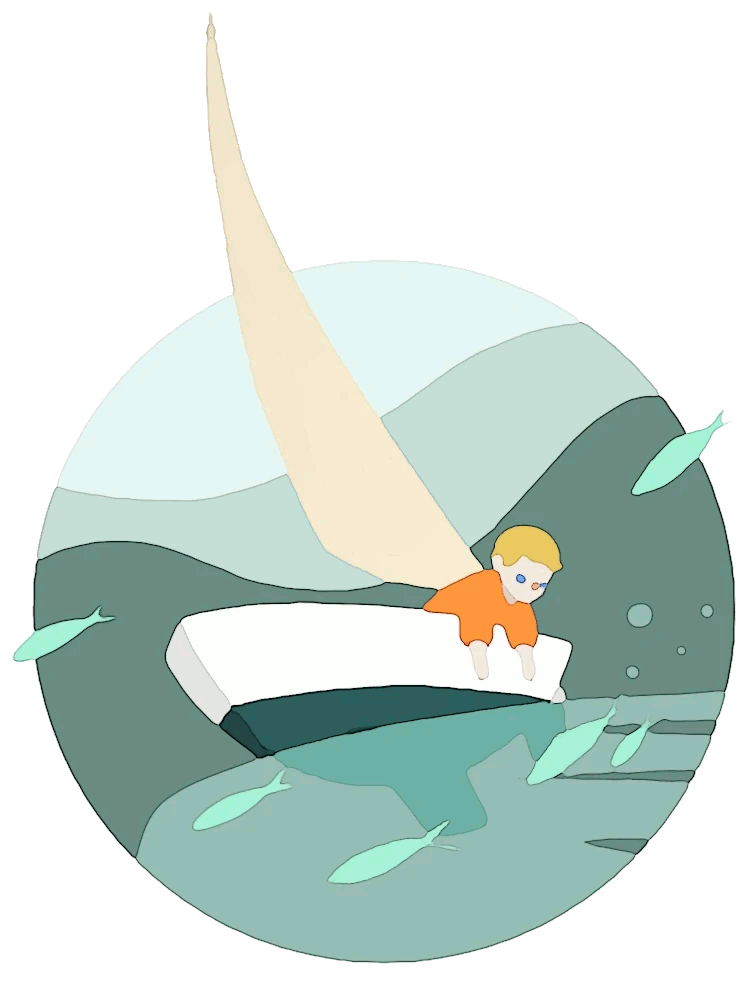 A round-the-world expedition, to meet both the species that make our oceans alive and those that lives surrounded by the sea
"The Ocean told to children" is a two-year adventure around the globe whose primary goal is to make popularization videos to talk about what's happening under the sea. More specifically, We will explore the tenuous but important links and influences between all the species that live underwater, and how those links affects all of us on Earth.
This expedition is also a collection of testimonies of those that lives from the sea and see its changes over time. How do you fell when you see your land disappearing under the sea rise? How do you feel when the species you use to fish to survive disappear?
The expedition
Following the coronavirus crisis, we have decide to postpone the big expedition and to stay in Europe for this first season.
The expedition plan is the following:
June 2021
Departure from La Rochelle late May
South Britanny
Scilly Island (South West of England)
Ireland
Ireland Sea
Hébrides
July 2021
Féroé Islands
Shetlands Islands
Norway
Bergen
August 2021
Denmark
North of Germany
Netherlands
Belgium
September 2021
South East of England
Anglo-Normandes Islands
North Britanny
October 2021
Popularize
We love what amazed us, and we protect what we love.

Jacques-Yves Cousteau
Oceans cover more than 70% of the Earth and yet, we only know a tiny part of it.
Nowadays protecting them is mandatory, but the protection path goes through knowledge. "The Ocean told to children" goal is to tell those stories that happen under the surface, to explore what is hidden and reveal it and explain it.
How does life arose in the oceans? How did it evolve to the way we know it? What traces of all this can we find in our day to day lives?
And today? How does the species making the different ecosystems in our oceans lives together? What is their way of working? What are their direct and indirect influences on our lives?
"The Ocean told to children" walks on the same path opened by other explorers, so we can all become spreaders of this hidden knowledge and so that everyone of us can understand and appreciate how important marine life is.
We are looking for teachers who would like to follow our expedition during its whole duration. If you are interested, please contact us!
Testimonies
When you look at the climate emergency, everybody reacts differently.
The oceans are transformed and those that lives with it everyday already bear the consequences of those changes.
When you see the land you grew up on disappear, when the fishes you used to fish disappear or when new opportunities appear, what do you feel? Do the people that are impacted see those changes? How do they grasp them? How do they see their future and their children's ?
We'll go meet those people—fishermen, oyster, normal citizens—to collect their testimonies and create a picture, in 2020 of their world and their life.
Onboard experiments
This expedition will also be the change to do some science! The boat will be fitted with several sensors suite.
Underwater sound level recording
A hydrophone will be towed by the boat. It will continuously measure the sound levels to characterize the sound pollution in the oceans but also record the presence and absence of marine mammals.
Plankton and micro-plastics sampling
Regularly, Plankton and micro-plastics will be sampled from the sea and the shores and species counting will be made. An automatic video system is currently being worked on to try to automate this and provide better data quality.
Sea surface and atmospheric physical properties measurements
Sea surface physical properties are very important to improve our knowledge of climate change impacts in the ocean. An automatic sampling and measurement system will be installed to collect a bunch of data (temperature, salinity, pH levels, dCO2, dO2). This data will be sent back to contribute to existing scientific programs.
Atmospheric properties are also very important and are used to improve the prediction of the weather. For this, an automatic system for the measurement of atmospheric pressure, humidity, temperature, wind speed and direction will be installed. This data will also be contributed back to science programs.